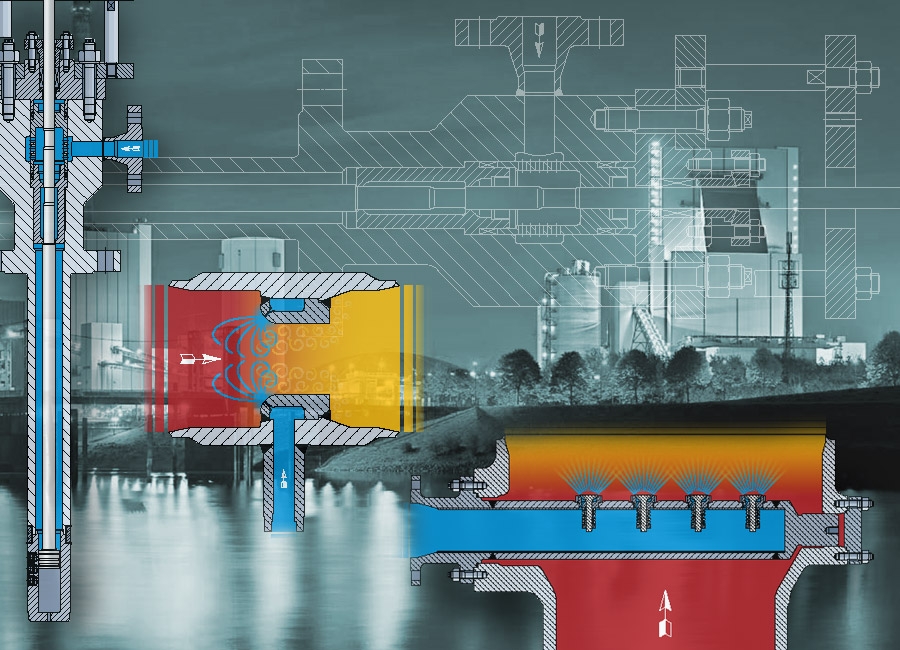 Steam cooling is the opposite process of super heating and crucial in several processes. HORA manufactures a complete package of different types of desuperheaters, every type with its particular properties. HORA precisely determine the CFD (Computer Fluid Dynamics) analysis for your application providing the optimum, most cost-effective version. Various products are available are available for this purpose.
Configuration
Applicable for:
Processsteam
Intermittent cooling superheater
Final cooling superheater
Condensor protection
Other cooling applications
Configurations:
Multi stage desuperheater
Venturi desuperheater
Desuperheating with atomizing unit
Static injection lance
"Cooled desuperheater"
Features
One piece, forged body (F1, F11, F22 and P91)
Integrated injection valve
Single- of multistage internal
Cavitation free internal
Due to control unit, avoid cavitation and always maintain an optimum pressure drop over the nozzle
Benefits
Easy maintenance due to clamped internals
No separate injection valve necessary
Anti cavitation trim
Seat located outside hot area
No welding connections
Optimal spray due to optimal pressure drop over injection nozzle
Thermoshock free!
Manufacturer
HORA is a German manufacturer of high pressure steam and water control valves covering all control systems in modern power plants. Together with a very good R&D department we are continuously seeking for better solutions and controllability of the steam water cycle. Flexible and dedicated performance company, supplying all tailor-made products.
Control valves
Steam conditioning valves
Feed water Control valves
Water injection valves
Desuperheater valves
Turbine bypass valves
Turbine shut-off valves
Automatic recirculation valves (Pump protection)
Valves for super critical boilers