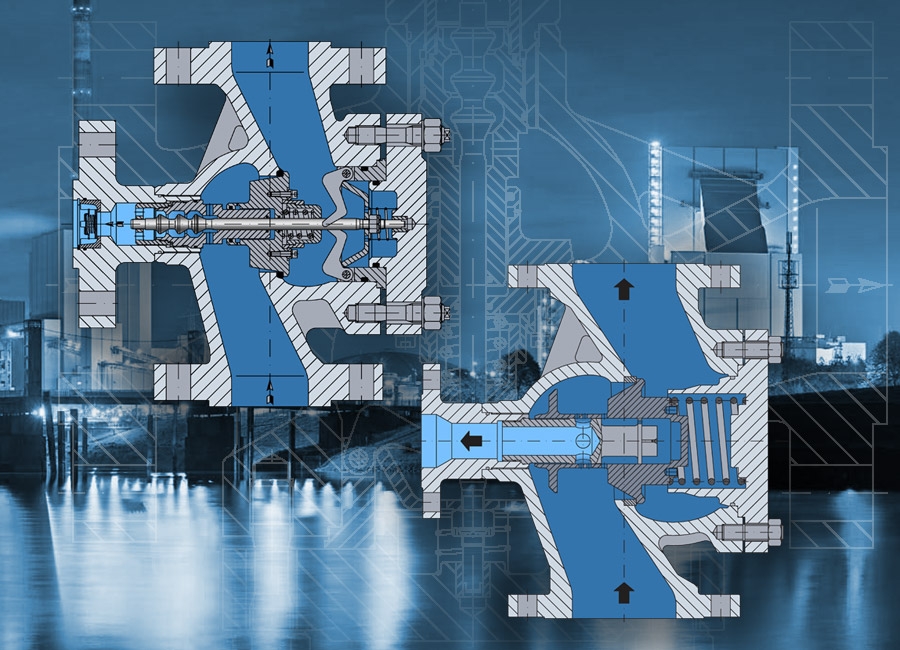 To avoid damage within a centrifugal pump, the need to ensure a continuous minimum flow can be established with the use of a pump protection or automatic recirculation valve. A minimum flow aids the cooling of the bearings and the seals within the pump and reduces the potential for a continuous stop/start situation. The valve maintains a minimum flow through the pump, whilst also acting as a non- return check valve for the pump.
The service friendly pump protection valves from HORA will be custom made depending on the pump parameters and are available as two different types. As a self-acting mechanism applicable at pressures up to 200 bar, or as an actuated valve which is recommended at pressures > 200 bar.
Configuration
Applicable for:
LP feedwater pumps
LP process pumps
Condensate pumps
Types:
< 200 bar pressure differential, full mechanical self acting pump protection valve
> 200 bar pressure differential, a motorised on/off valves or multi stage control valve
Features
Additional Back Pressure Regulation possible
Anti cavitation trim
High quality forged- or castings
Z-type, angle or straight pattern
BW / flange connection according DIN or ANSI
Pumpspecific
Single- or multistage construction
DIN
ANSI
Pneumatic / electric
Benefits
No requirement for an external actuator
Completely mechanical construction
Maintenance friendly
Built in check valve
Horizontal and vertical mounting possible
Manufacturer
HORA is a German manufacturer of high pressure steam and water control valves covering all control systems in modern power plants. Together with a very good R&D department we are continuously seeking for better solutions and controllability of the steam water cycle. Flexible and dedicated performance company, supplying all tailor-made products.
Control valves
Steam conditioning valves
Feed water Control valves
Water injection valves
Desuperheater valves
Turbine bypass valves
Turbine shut-off valves
Automatic recirculation valves (Pump protection)
Valves for super critical boilers