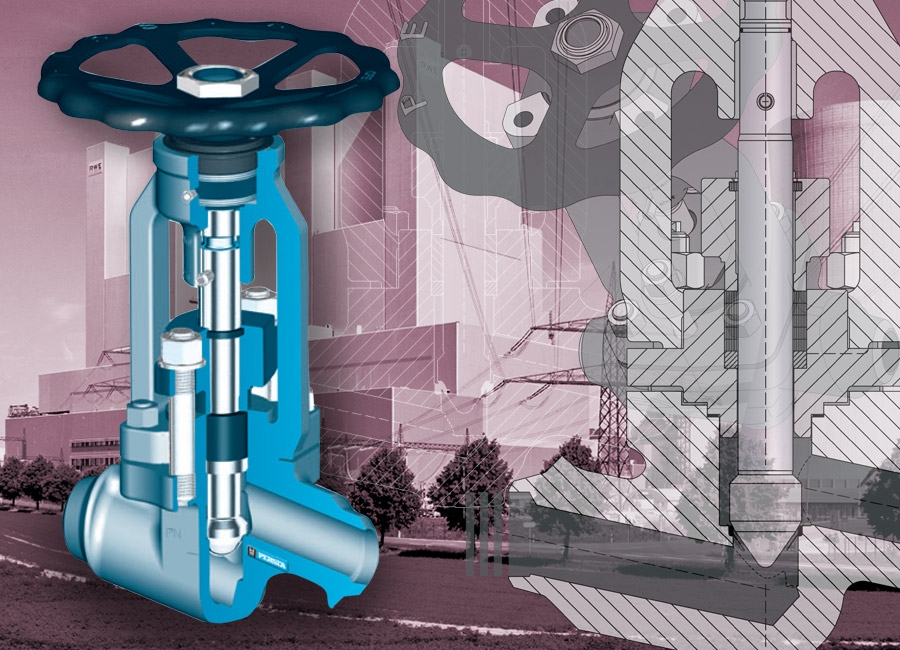 Configuration
Construction bonnet less and pressure seal bonnet.
Body materials:
Carbon steel: 1.5415, 1.0460
Alloy steel: 1.4901, 1.4903, 1.7335, 1.7383, 1.6368
Stainless steel: 1.4571
Other materials on request
DN 10-65, PN up to 630, DN 65-250, PN up to 500
Connections:
Flanges
Butt weld ends
Socket weld ends
Other connections
Features
Disc and stem in one piece
Die-forged valve body and bonnet
Non-turning, rising stem
Position indicator / anti-rotation device
Throttle disc
> DN20 with an integral actuator flange
HD2000 valves also available in angle pattern
Design Highlights
Body seat: tapered seat welded on integratedly with stellite
No pressed in or screwed seat ring, therefore no crevice corrosion or loosening
Disc and stem in one piece; up from +570°C with stellited tapered seat
Damage between disc and stem due to high flowrates is prevented
Sealing to the outside only by means of the gland packing
No bonnet gasket, therefore reduction of possible leakage areas
Body and bonnet in two separate pieces with bolted bonnet
To ease maintenance work, e.g. regrinding of the body seats
Yoke sleeve made of bronze
Good emergency running properties
Cup springs above the upper needle bearing
To maintain the necessary closing forces when dimensions change between stem and yoke arm due to thermal fluctuation
Manufacturer
PERSTA is a market leader in the high performance forged steel isolating valves. Established manufacturer, part of the Siepmann Group with their own forging shop. Especially the high pressure globe and gate valves are a benchmark in the valve industry with a flexible production process.
Globe valves
Gate valves
Check valves
Bellow seal valves
Special valves
Valves for super critical boilers