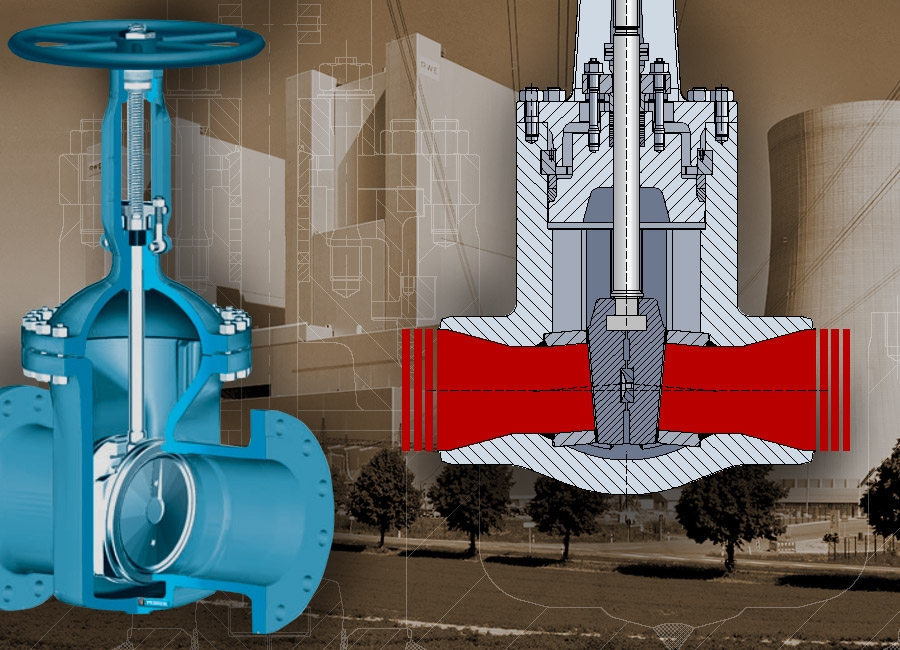 Configuration
Valves with stuffing box or bellows sealed pressure seal bonnet or blank flange.
DN 50-1000
PN up to 40, DN 50-300
PN up to 100, DN 50-300
PN 160, DN 50-700
PN 100-630 (PD 10-63), DN 10-50
PN up to 100 (Class 800)
Body materials:
Carbon steel: 1.0425, 1.0460, 1.5415
Alloy steel: 1.4901, 1.4903, 1.6368, 1.7335, 1.7383,
Stainless steel: 1.4571
Stainless steel low temperature: 1.4308
Other materials on request
Connections:
Flanges
Butt weld ends
Socket weld ends ≤ DN 50
ASME on request
Features
"Split wedge" construction
Rail guided discs
Die-forged body and bonnet
Non-turning, rising stem
Spindelnut with bearing
Easy assembly of an E-actuator
Pressure sealed bonnet acc. VGB-guidelines
Design Highlights
Main valve body is one-piece die-forged incorporating the bonnet flange and the guide for the shut-off device
Die-forged parts, compared with cast steel parts are generally free from porosity and shrink holes. The special of the valve body minimizes the existance of welding seams.
Valve body equipped with guiding system
Compared to parallel slide valve an almost friction free stroke
Hard faced seats (app. 35-37 HRC)
Extremely resistant to wear
Full bore, except DN 65/50 and DN 125/100
No reduction in seat area
Hammer head connection between wedge and stem
The wedges are able to move parallel to the axis of the pipeline within the guiding groove. This protects the stem against bending moments
Pressure sealing bonnet
Best possible sealing function
Manufacturer
PERSTA is a market leader in the high performance forged steel isolating valves. Established manufacturer, part of the Siepmann Group with their own forging shop. Especially the high pressure globe and gate valves are a benchmark in the valve industry with a flexible production process.
Globe valves
Gate valves
Check valves
Bellow seal valves
Special valves
Valves for super critical boilers